Watch Rose's talk with an audience from the Canton Public Library as part of their AAUW Speaker Series
This "Book Stew" with Eileen MacDougall interview on WCTV, Wilmington [Massachusetts] TV, featured the author and two graduates. One alumna received tuition to Gibbs as a college graduation present in the 1980s from her grandmother who had attended Gibbs in Boston in the 1920s. The other is a 1950s graduate of the Chicago campus.
"Weston museum highlights history of the Katharine Gibbs secretarial school" by Steve Maas
Boston Globe on 12 November 2015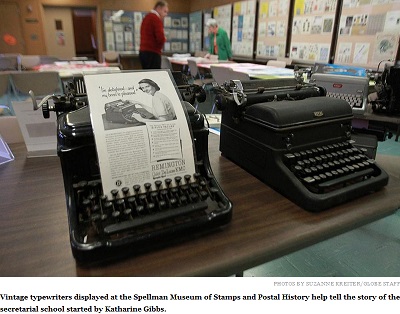 "Step back in time –into the typing pool." by Nancy Shohet West
Boston Globe "MetroWest" on 3 November 2015
"Katharine Gibbs & Her School: Beyond White Gloves"
Reprinted by permission of the New England Historic Genealogical Society. Rose A. Doherty,  American Ancestors vol. 16, no. 1 (winter 2015):29-33. For more information about American Ancestors magazine and the New England Historic Genealogical Society, please visit AmericanAncestors.org.
"Needham author writes about secretarial school owner" by Cindy Cantrell. Article from the Boston Sunday Globe, MetroWest Section on 22 February 2015.
"Ryan Family Legacy: Katharine Ryan Gibbs Daughter of Galena who rose to the world stage." Article from the Galena Gazette in Galena, Illinois on 17 December 2014.
"Author has Gibbs School covered with a white glove." Article from the Journal Inquirer in Manchester, Connecticut on 18 August 2014.
Article will open in a new window.
Watch Rose's interview with the Needham Channel
Listen to Rose's podcast interview with 95.9FM WATD Radio
BNN News Interviews Rose Doherty, "Beyond The White Gloves
Listen to Rose's podcast interview with 1550 WNTN Radio