Talks about Gibbs have been given at many locations, including those listed below. If you have a suggested venue, please call 781-540-1847 or contact me.
WALKING TOURS OF BACK BAY–2024
HISTORY AND SITES OF KATHARINE GIBBS SCHOOL AND GIBBS COLLEGE 
Saturdays from 11:00 AM to 12:30 PM
April 20, May 18, June 15, September 21, October 19
Gibbs was the most famous school of its kind in the world from 1911 to 2011. Katharine Gibbs made sure that all of the campuses from Providence, Boston, New York, and beyond were in beautiful buildings in elegant parts of their cities.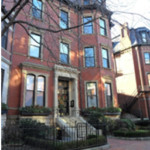 Although the tour is free, attendance is limited to not more than twelve people.  The tour is led by Rose A. Doherty, author of Katharine Gibbs: Beyond White Gloves, the first book about the history of Gibbs and its amazing entrepreneurial founder. 
Please call (781) 540-1847 to ask questions or let me know you will be present or write to [email protected].
 We will meet at the right-hand statue in front of the Boston Public Library, Dartmouth Street, Copley Square.
Join me in a tour of the excellent sites of Gibbs in Back Bay from 1917 to 2011. Whether you are a graduate, a history buff, or someone who has heard about Gibbs for years and wants to know more, here is a great treat!
Talks about Gibbs have been given at these sites:
Waterstone at the Circle for residents and guests
History Camp Boston, history unconferences at Suffolk University Law School
The College Club of Boston, the oldest women's college club in the country, served as a dormitory for some Gibbs students.
Osher Lifelong Learning Institute (OLLI) at the University of Massachusetts Boston–Multiple times since 2015
Wellesley-Weston Lifetime Learning–Open to Members
General Israel Putnam Chapter, Daughters of the American Revolution, Danvers, joined by the Cape Ann and Salem Chapters of the Daughters of the American Revolution
Explorers Lifelong Learning Institute at Salem State University
Salem Women's History Day House of Seven Gables "Katharine Gibbs: Trailblazing Woman in Business"
Thermo Fisher Scientific, Waltham, Massachusetts–Private Corporate Event
South Boston Historical Society, South Boston Branch Library, South Boston
Waterstone at Wellesley–Private Event
Boca Raton Public Library, Boca Raton, Florida
Spellman Museum of Stamps and Postal History, Regis College, Weston
Canton Public Library, Canton
Canton chapter of the American Association of University Women
Local Authors' Night, Wilmington Memorial Library, Wilmington
Center at the Heights, Needham
Brookline Adult & Community Education at Brookline High School, Brookline
Sharon Adult Center
New England Historic Genealogical Society, Boston
Wellesley Books, Wellesley
Rotary Club of Washington, DC, University Club, Washington, DC
Village of Friendship Heights, Chevy Chase, Maryland
BookEnds Winchester, Winchester
Rotary Club of Needham, Needham
"The Business of Business Education" Kirstein Business Library, Boston Public Library
Wellesley Free Library, Local Author Series, Wellesley
Waterstone at Wellesley, Wellesley Hills
Wellesley Public Library Local Author Book Fair, Wellesley
Needham Free Public Library, Needham Heights
Rotary Club of Waltham, Waltham
Sippican Woman's Club, Marion
Walpole Public Library, Walpole
Back Pages Books, Waltham
---
Two and one-half month exhibit of Gibbs memorabilia and related philatelic material.
Jean Bates Pratt, 1939 graduate, with a 1939 Gibbsonian from the exhibit.
Graduates wore hats and gloves to the exhibit.