My life with Gibbs began in the sixth grade when I handed out matches and bridge cards at an alumnae event in Providence, Rhode Island. Gibbs was the school to attend. I was later a faculty member and academic dean at Katharine Gibbs School in Boston and chair of the Gibbs College, Boston board of trustees.
When I started teaching at Gibbs, people still referred to Mrs. Gibbs as though she would be back any minute although she had died over 40 years before. When I stepped off the board of trustees to serve as Interim Dean in this century, I was in for quite a surprise. Students, faculty, and staff did not know anything about the founder. I decided then to write about Katharine Gibbs and her accomplishments because this is a uniquely American story of hard work, perseverance, and style.
Katharine Gibbs was honored in March 2014 as a woman of character, courage, and commitment. Below, Rose Doherty shows the audience her white gloves as the interpreter signs "white."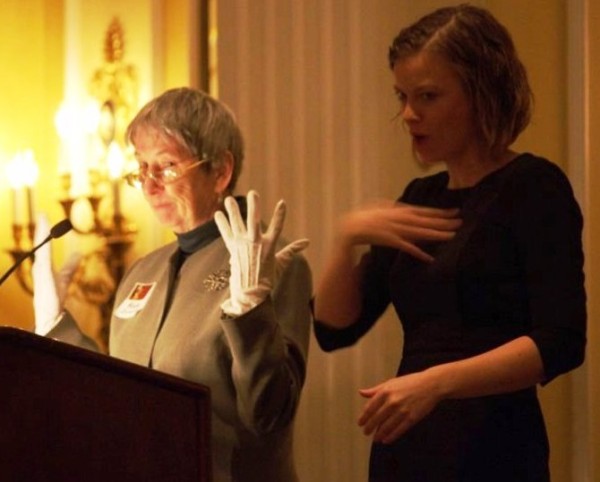 Gibbs is a significant part of business history, women's history, and education history. This site adds to the material in Katharine Gibbs: Beyond White Gloves. Everyone is invited to add thoughts and images. Please write to me with your additions, corrections, etc.